Transform Product Teams in Any Business
(CSP-SM)
Register Now
15 PDUs | 15 SEUs
Mentorship Program with ten 90 min sessions
2-year membership with Scrum Alliance®
Join the videoconference from anywhere in the world
Registered Education Provider with Scrum Alliance® and PMI
Certified Scrum Professional – ScrumMaster®
BERTEIG is going virtual.
As Canada's leading Agile training company, we're channeling our 15 years of expertise into new virtual offerings.
Receive the same internationally-recognized certifications with the same excellence you've come to expect from BERTEIG in-person training.
Upcoming Certified Scrum Professional – ScrumMaster® (CSP-SM)
Certified Scrum Professional - ScrumMaster® (CSP-SM)

24 FEB 2022 - Thursday - Online - Mishkin Berteig

Early-bird Discount!

C$1995.00

C$1695.75

Until 26-Jan

Register Now

Only 10 Spots left!

- Transform Product Teams in Any Business -

This programme provides advanced on-the-job learning, helping you to develop the techniques necessary to guide your Enterprise Agile Transformation.

Achieve Certified Scrum Professional - ScrumMaster® (CSP-SM) designation with Scrum Alliance® certified coaches guiding you to successfully complete this course.

This is an advanced learning programme and participants must have 2 years of experience as a Scrum Master before being eligible for certification. You may enrol for this course before you have completed 2 years of experience in the role.

- 15 PDUs | 15 SEUs
- An intensive learning experience with significant pre-work
- Workshop/seminar style engagement with minimal lecture
- Taught by Experienced Accredited Coaches
- 2-year membership with Scrum Alliance®
- Registered Education Provider with Scrum Alliance®


Preparatory work
- Will be released in Dec 2021 once 5 people have registered for the course.
- Participants should expect the preparatory work to take between 4 and 6 weeks elapsed time to complete. In total, the curriculum will be between 15 and 25 hours of real time study.


Prerequisites
- 2 years of experience in a ScrumMaster role in last 5 years
- A-CSM (Advanced Certified Scrum Master) credential

--
[Please register using a corporate email address, if applicable, as that is how we determine corporate loyalty program discounts.]
Read More

Location:

Online

Date:

Thu 24-Feb-2022


Time:

10:00 AM to 04:00 PM (EST)

Trainer:
This Mentorship Program provides advanced on-the-job learning, helping you to develop the techniques necessary to guide your Enterprise Agile Transformation.
Be among the first to achieve Certified Scrum Professional – ScrumMaster® designation with Scrum Alliance® by successfully completing this course.
BERTEIG is also a Registered Education Provider with the Project Management Institute.
Praise for BERTEIG
Certified Scrum Professional – Scrum Master® (CSP-SM) Training
I enjoyed the delivery and presentation provided. Your coaching styles really help students focus on growing and asking why vs just completing yet another certification like some other trainers/coaches.

Scrum Master
Well worth it for those seeking to move to the next level. I'm used to learning on my own, self-taught, but what I got out of the course will carry with me for years.

Scrum Master
This course helped drive the direction of our company as an agile environment.

Senior Software Developer
Learned a lot of eye opening things about scrum. Many myths got busted.

Associate Project Manager
The course (gave) a wealth of practical information and insight that we can apply directly to our team situation as well as...how to optimize our processes in the future.

COO
Incredibly rich in terms of introducing new concepts and approaches to achieving complex work completion.

Senior Technology Infrastructure Analyst
The instructors are experienced agile practitioners, and they provided invaluable advice on real life challenges scrum masters often encounter.

Scrum Master
With the great techniques learned...I feel confident of helping my team to become the most high performance team ever.

Software Engineer
Great course. I liked every single event and practice. The trainer is excellent and so passionate about what he is teaching. Thank you for the good experience.

Team Lead
After hearing multiple times about agile methodology from everyone, I attended this class and received valuable answers to all the doubts that I had regarding scrum. Now I'm confident of being of value to my company and myself.

Business Analyst
I would recommend this course to any one/company that is interested in agility and the use of scrum as a methodology.

Scrum Master
Great framework for leveraging the power of teams and skills.

Change Management
By successfully completing this course over the 10-sessions, you will be able to:
Support your organization and lead the Agile transformation.
Learn the skills needed to influence effective change.
Apply additional techniques from Lean and other Agile frameworks.
Elevate product delivery by assessing the whole organization and implementing strategies to mature its agility.
Gain real-world experience by leading an organizational Agile transformation
Be among the first to fulfill the requirements of the Certified Scrum Professional – ScrumMaster® (CSM-SP) program.
Week 1: Transformation Goals
Week 2: Coaching
Week 3: Assessing Teams
Week 4: Assessing Structure
Week 5: Assessing Waste
Week 6: Agile Maturity Assessment
Week 7: Improvement Backlog
Week 8: Change Management
Week 9: New Agile Teams
Week 10: Transformation Presentation & Wrap-Up
Program Details & Prerequisites
Join from anywhere in the world for one of the ten 90 min sessions that are held over videoconference.
Sessions are kept small to facilitate strong mentorship, and sessions are recorded so you'll never miss a thing.
Participants have access to an online discussion forum where they can interact with the coaches and each other as they progress through the program.
Participants can expect to engage with all levels of their organization as they complete 1 – 3 hours of offline work between sessions.
You must have your CSM and A-CSM before participating in the CSP-SM coaching program. Team Kanban Practitioner (TKP) training would also be very beneficial (this can be taken after the CSP-SM has begun).
In addition to graduating from the CSP-SM program, participants must have two years' of experience working as a ScrumMaster prior to obtaining the CSP-SM credential, however this experience may be gained after attending the CSP-SM program.
#php include('team-member-rating.php'); ?>
Mishkin Berteig
Chief Executive Officer and Certified Scrum Trainer
Canada's Best Known & Longest-Standing Certified Scrum Trainer®
Mishkin Berteig leads, mentors, trains and coaches teams and organizations, managers and executives. Mishkin helps organizations become more effective by using methods such as Scrum, Extreme Programming (XP), OpenAgile® and Lean. These methods present the best balance between chaos and bureaucracy; they allow human creativity and problem-solving to flourish in the service of tangible corporate and organizational goals.

Mishkin has over 20 years of professional experience with Agile methods. Mishkin publishes articles and thoughts about agile on Agile Advice. Mishkin has trained people from Canada, the United States, India, China, the Middle East and Europe. Mishkin Berteig is President and co-founder of BERTEIG.
Mishkin Berteig has been training, coaching and consulting for organizations since 1995. Mishkin co-founded BERTEIG in 2004. Mishkin is committed to helping individuals, teams and organizations to transform their way of working and achieve Real Agility™.
Mishkin has assisted organizations of all sizes to make the transformation from traditional methods to Agile methods (Extreme Programming, Scrum, Lean, Kanban, OpenAgile). Mishkin has helped with culture change, change management, executive management coaching, Agile management, Agile product, project and operations management, Agile teamwork and Agile engineering practices. Mishkin is a co-author of the Real Agility™Program, BERTEIG's solution for organizations to achieve higher levels of organizational agility.
Mishkin has developed and delivered Agile training both in public and in-house seminars for over 10000 people in Canada and abroad. Courses have been as short as three hour intro-style and as long as five day boot-camp-style, and audiences have ranged from junior team members to senior executives. Mishkin has been a Certified Scrum Trainer since 2005 and is the longest-standing CST in Canada.
Mishkin writes regularly for the BERTEIG blog (formerly Agile Advice) with hundreds of articles about agile methods. Mishkin is also the author of two books "Agile Advice" and "I Am Not a Great Leader".
Leadership Coaching/Training Highlights:
2001: Advised the CIO of Charles Schwab, Geoff Penny, on Extreme Programming and Agile in the IT department as to how it may improve their existing Rational Unified Process implementation.
2003: Workshop for CTO Rich Freyberg and direct reports of Schwab Capital Markets on Agile methods, focus on XP. The highlight of this experience was telling Rich to "shut up" because he was constantly interrupting the proceedings. (We had a long pre-existing relationship before that event – I didn't get fired.)
2004-2005: Consultant, coach and trainer at Capital One in Richmond Virgina. Worked closely with another consultant on a major assessment/report for the CTO Gregor Bailar and then worked with numerous senior managers as a coach and consultant. Also worked closely with a number of well-known agilists including Mary Poppendieck, Michael Hamman, Michael Spayd, and others.
2005-2006: Certified Scrum Master class for the Director and Senior Managers at Siemens, Trango division, co-trained with Jeff Sutherland. Followed up with them for the next 18 months as their Agile coach and trainer, working directly with their senior managers.
2006: Coach at RWDI working with the team on a Scrum adoption. A team-level crisis escalated to working with one of the VPs on a financial model to show the value of focus and rapid delivery.
2007: Custom training for Dan Lesage, Software Development Director at Adobe and his senior managers. Focus on solving change management problems.
2008: Lots of work with leaders and managers at Research in Motion (RIM) – BERTEIG got fired, eventually. Leadership didn't enjoy looking at cultural issues in the organization. No names here, but it was a great learning experience for us to see how deeply culture matters in attempting to do a transformation.
2009: Another bad experience: delivered a private training for OpenText to the CIO Nicholas Oddson and his senior leadership team. We totally bombed it and were not invited back. Lots of learning here too.
2009-2011: Strategic consulting, executive presentations, Agile Coach Training for RBC and the newly-formed Agile Centre of Excellence.
2010: Training, coaching and consulting at Suncor in Fort McMurray. First major engagement in a non-software Agile Transformation. Worked with Darin Zandee, Superintendent responsible for 200 people on the mine site, and his senior managers. Included one-on-one leadership coaching for Darin.
2010-2011: Group leadership coaching and workshops for Cam Crosbie, AVP then CIO of Equitable Life, and his business peers. Focus on helping Cam and his peers function effectively as a leadership team in the context of an Agile Transformation.
2011-2014: Training, coaching and consulting at Schlumberger Beijing Geosciences Centre working with Pearl Chu, Technology Centre Manager, in Beijing. Included leadership coaching for Pearl, Agile Coach Training for senior and mid-level managers reporting to Pearl.
2012-2013: Leadership coaching and consulting over 18 months for Frank Leong, VP Business Technology and his colleagues including Michael O'Sullivan, President. Included a systematic leadership development program of our own design which has evolved over time to become the "Real Agility Leadership Track" and the "Real Agility Management Track".
2013: Executive presentation on Agile Transformation for FreshBooks leadership team.
2014-2015: Multiple leadership presentations and workshops with Simon Palmer, CIO and his senior leadership team at LoyaltyOne. Focus on leading with integrity during their Agile Transformation.
2016: MAJOR HIGHLIGHT: Attended and received Leadership Circle Profile Certification™. The Leadership Circle system has informed our work with leaders ever since.
2016-2017: Focus on internal organizational development at BERTEIG and personal leadership development. Did no significant work with leaders in client organizations this year in order to focus on cleaning up our own house, so to speak.
2018-2020: Design and deliver a custom leadership program for Scotiabank over 18 months covering mindset, Agile methods, leadership development, lean thinking, community development, technical excellence, and organizational change. Roughly equivalent to an MBA focused on leadership and organizational agility. Delivered to a cohort of 21 senior and mid-level managers.
2019: Work with my own coaches to develop their leadership coaching ability, primarily focused on our engagement with Trader working with Steve Maidment, Chief Delivery Officer.
Select Client List:
Banking: Scotiabank, RBC, BMO, TD Canada Trust, CIBC, HomeTrust, Capital One, Charles Schwab, Key Bank
Energy/Resources: Schlumberger, Bruce Power, Suncor Energy, Geosoft
Insurance: Great West Life, Liberty Mutual, Equitable Ins., Empire Life, Economical Ins. Grp.
Telecom: Ericsson, Blackberry, Siemens, Telus, Rogers, Bell, Nortel
Media: Globe and Mail, Shaw Media, ZU, Canoe.ca, CBC, Glacier Media, Post Media, TV Ontario, Comcast
Loyalty: LoyaltyOne, AIMIA, Points.com, Empathica
Technology: Adobe, Blueprint, Freshbooks, Intuit, Irdeto, Kijiji, MyPlanet Digital, OpenText
Education: Xello/Career Cruising, Desire2Learn, Queens University, University of Guelph
Government: Goverment of Canada, Government of Ontario, City of Fort McMurray,
Other: App Annie, Modernizing Medicine, Trader.ca, D+H, Workopolis, 407ETR, British Counsel, PHH, Ganz, RWDI
Certifications and Accreditations:
Certified Scrum Trainer®, Path to CSP Educator®, CSP-PO, CSP-SM, SAFe Program Consultant
ICAgile Authorized Instructor, ICAgile Certified Professional (ICP)
Leadership Circle Profile Certified, Master of OpenAgile, Team Kanban Practitioner
BSc, Computational Science
Testimonials:
An engaging, thorough look at best practices behind true product ownership and working within Scrum. Expert instruction that was never boring and full of insightful learnings. It goes without saying that Mishkin knows his stuff, and is eager to teach Real Agility and Scrum to the world. – Matthew Parkinson, Director of Digital Product Management, Investors Group/ IGM Financial 2019
Mr. Berteig is a wonderful trainer and presenter of the materials covered. His experience in leading discussions around the various concepts and facilitating exercises used to feel the effect of Scrum were appropriate in relation to the audience' prior experience and knowledge of the topic. – Simonne Cormier, Training Development and Coordinator, Veterans Affairs Canada, 2019
Experience Summary
Over 23 years practising, managing and coaching Agile Process and Development
Over 14 years experience teaching Scrum (and Agile) in a classroom
Over 11 years experience applying Agile outside of technology environments
Publications
2018
2014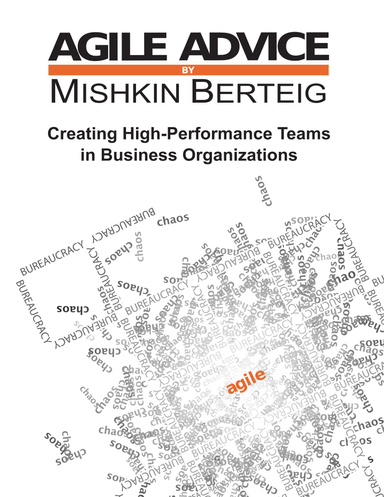 …or from the iBookStore!
…or from Amazon!
Other Interesting Facts about Mishkin Berteig
Mishkin has four children. His oldest is nearly 23 and his youngest is 11. Mishkin is, of course, extremely proud of his children who are all artists of various types… following firmly in the family tradition. Mishkin's parents, step-parents and siblings are also mostly artists.
Mishkin worked for Peters Surveys Ltd. as a junior team member in the late 80's and early 90's on and off. One of the big projects Mishkin assisted with was the Husky Oil Upgrader project just outside of Lloydminster, SK. Mishkin did both field work and site map calculation work for the grading of the site prior to construction.
Mishkin travelled to Belize on a one-month service project with a number of other youth in early 1990. Mishkin's flights were eventful including a last-minute aborted landing due to a storm around Cancun. Mishkin travelled throughout Belize including Corazal, San Ignacio and Dangriga.
Mishkin has a few hobbies and past-times that generally follow in a 10-year cycle: custom Lego building, robotics, coin collecting, mathematics, and music composition. Of these, Lego and mathematics are currently at the fore of his attention.
Mishkin grew up in Saskatoon, Saskatchewan and loves that city very much. He hasn't lived there for many years, but when he returns he often is overwhelmed by emotion as he visits favourite spots such as the University of Saskatchewan campus, the bridges and river valley, and the Broadway strip.
Presentations
"Leadership Agility – Luck, Love and Truthfulness" – 20181011 – Agile North Meetup
"Agile Architecture Master Class" – 20180515 – Private Client
"Scrum vs. Kanban vs. ADKAR vs. Kotter – Which Is Best For You?" – 20171031 – Global Scrum Gathering Dublin
"Real Agility for Everyone" – 20170921 – Private Client
"Doubling Productivity with Real Agility" – 20170613 – Project Management Institute SWO Chapter
"Launching Agile Teams – The Skills Matrix" – 20161114 – Toronto Agile Conference
Loyalty Is Rewarded
BERTEIG Loyalty Program
At BERTEIG, we believe that continuous lifelong learning is a key element to success and achieving excellence.
We developed the BERTEIG Loyalty Program to encourage our clients to develop a culture of continuous learning. The more people you train, the more money you save (simple)!
The discount level you reach by the end of the calendar year is maintained for another full calendar year. As soon as you reach the minimum number of registrations for the next level, you move up and enjoy greater discounts.
The BERTEIG Loyalty Program is available for both Public and Private training.
Starter Program
Register
3 people
in a year
=
15%
off this year
and next year,
organization-wide
Momentum Program
Register
10 people
in a year
=
20%
off this year
and next year,
organization-wide
Accelerate Program
Register
20 people
in a year
=
25%
off this year
and next year,
organization-wide
Enterprise Program
Register
40 people
in a year
=
30%
off this year
and next year,
organization-wide
BERTEIG loyalty program is not a one-time group discount. It is a long-term organization-wide program to encourage continuous learning in the organization while saving money on training. If you are looking for a one-time group discount, write us here or call us on 1-(888) 852-8216, we would love to help you out.
The PMI Registered Education Provider logo is a registered mark of the Project Management Institute, Inc.